Blogpost by Joonas Laitinen, Technical Account Manager, Nextron Finland.
Cloud cloud cloud. You probably have heard that during the last few years. While consumers get their cloud typically for free, it's not like that for businesses. For the consumers its typically enough to get 20Gigs of space. For businesses its way more. As all business has become more and more data intensive and data driven, so has the need of space. Also, while in the past it was enough to just store the data and do occasional searches on it, we are doing more now. We feed the data to algorithms and other places. Right now, most of that is done in cloud services like AWS. Services like AWS are charging money for that service. And while it's true that it is easy, it is not that cheap. Have you ever calculated the cost for your business?

A while back I was talking to my friend who is working for large company with big amount of data. I asked him what they pay for their storage. (Keep in mind, this is just storage and nothing else). He replied: We are paying roughly €10 000 for 450TB/month. So, that's approximately €120 000/year. He cited ease of use and the typical attributes of cloud. He went rather quiet when I told him what it would cost to do it on premise. The investment to reach the same capacity on premise is roughly €40 000, or in some cases way less. If we factor in that the same data should be at 3 places, the total cost is the same (€120 000). But then the equipment is yours. If the system last for at least 5 years (our Warranty period by the way), you will save a lot of money. Yes, we do need to factor in the networking speeds, but in the Nordics, we have low-priced & really fast internet everywhere. Those 3 machines take approximately 0,9kWH power each, to total of 2,7kWH. That's 8760 x 2,7kWH power, and that's roughly €3300/year in Finland. So, in total you will save at least €100 000/year for 4 years. That's some money indeed.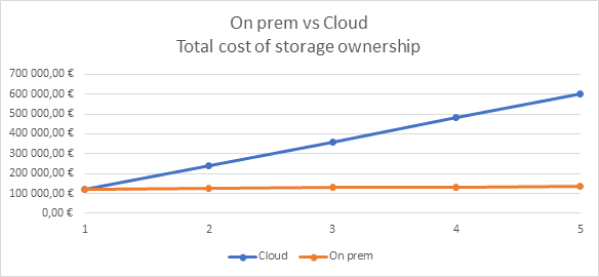 But wait, there is even more. If you do make some calculations with your data things change again. And they change drastically. Are you training some type of MI or AI algorithm? Then you are probably using AWS again. Most often, you are using NVIDIA Tesla T4 based instances. Let's say you need 8 Tesla T4s to do your training. If you reserve that many T4s for a year each of them costs between $2268 and $22881/year. The cost depends on what type of RAM and storage you need. Let's say you go with middle path, and it is around €10 000/year. Then what about if you are actually buying that same capacity? Well, a machine with 8 x Tesla T4 cards will set you back roughly €26 000. Again, we are back to the fact that you will save a lot of money. Added benefit is that the data is stored locally by you, so you don't have to worry about that. Also, if the data is generated locally from sensors or something, you don't need that much internet speed for that transfer. These numbers are nearly linearly scalable, so even if your need is small, keep in mind the possibility of having local hardware.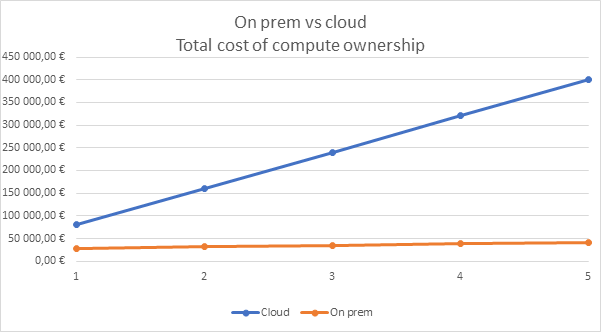 While the cloud is an option for sure, you should look at alternatives as well. With these 2 quick examples, you can see that clouds are not always the best option.